---
---
Aeboard AX plus Specification:
Skateboard:
39″ Length I 9.5″ Width
Deck:
2 layer Bamboo+3 layer 

Glass fiber 

Top Speed:
Up to 31 mph / 50 kmh
Hill Climbing:
Up to 35% Grade
Board Net Weight:
17.16 lbs / 7.8kg
Rider Weight Limit:
330 lbs / 150 kg
Power:
800 Watt*2
Remote:
Smooth  screen Control Remote
Ride Modes:
3 Ride Modes
PU on motor:
Super High Rebound PU 76A
Motors:
105mm X 56mm 
Charging Time:
3 Hours
Braking:

Regenerative Brakes
ABOUT RANGE(DIFFERENT BATTERY OPTION DIFFERENT RANGE)
Standard Battery(20R Battery)
| | | |
| --- | --- | --- |
| Battery Style | Capacity | Mileage |
| 10S2P | 4.0 AH | 15 KM/9.3 Miles(Carry on the plane) |
| 10S3P | 6.0 AH | 22 KM/13.6 Miles |
| 10S4P | 8.0 AH | 29 KM/18 Miles |
| 10S5P | 10 AH | 36 KM/22.3 Miles |
Samsung 35E
| | | |
| --- | --- | --- |
| 10S3P | 10.5 AH | 37 KM/23 Miles |
| 10S4P | 14AH | 50 KM/31 Miles |
| 10S5P | 17.5 AH | 65KM/40.3 Miles |
Remote control instruction: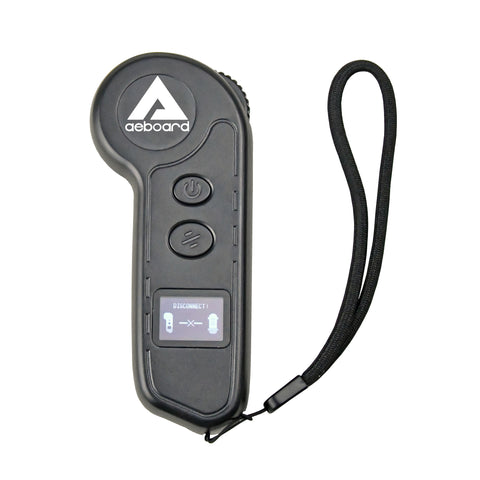 NEW FEATURES:
THE 105*56MM 76A HONEYCOMB SHOCK DAMPENING WHEELS PROVIDE A MORE COMFORTABLE RIDING EXPERIENCE. ROUGH AND UNEVEN ROADS ARE MUCH EASIER TO ROLL OVER
The FLEXY Canadian maple deck is both resilient and comfortable.
The scalable design of the battery enclosure allows for battery customization with ability to extend range simply by adding an additional battery pack. Plus the enclosure also compliments the maple deck because it also flexes together with the deck
A bonus on the AX Plus is the inclusion of a USB output port which allows you to charge your mobile devices like your phone and the board remote. 
Note:
A word of caution after fully charging the battery.  We

 

recommend riding a few hundred meters on flat areas before attempting downhill riding where heavy braking is likely to occur.  This is due to the

 

regenerative braking that could

 

possibly damage and shorten the lifespan of the battery due to overcharging. When this occurs during riding, the brakes may become unresponsive due to the overcharge protection built into the board. 
The AEBoard AX Plus' electronics have been treated at the factory with a water-resistant coating.  When opening up the battery enclosure for

 

maintenance of your board or replacing the battery, the boards' water

 

resistance maybe

 

be

 

diminished.  Please be aware that although the board is water-resistant, it is not waterproof.  Water damage is not covered under the factory warranty. 
Always wear a helmet and suitable safety equipment when riding an electric skateboard.
Remember to turn off the remote and charge it when not in use to extend battery life.
---
AWESOME
board rides extremely well right out of the box... very pleased so far !
One AMAZING board!
Well worth it! Made well and very powerful!! Have and wear safety gear 🤘
when will it come for standered shipment
Late and lost but so fucking worth it
First order got lost along the way, they resent it and it arrived in two weeks (Europe). My third and favorite board. It's amazing really.
If this had AT wheels, I'd give it 5 stars.
I couldn't make this review earlier due to the weather being cold/bad, and quarantine season. But after riding it for a month (as I'm able to), here's my purchase:
Maxed out battery (10s5p) $929.
1) Tighten your trucks! If this board can make turns easily, your trucks are actually loose. Unfortunately, I learned that after going close to 27mph and getting crazy speed wobbles. I fell of course. The rubber actually gets softer over time so you'll get the turns and stability the longer you turn it.
2) This ESC unfortunately locks your board if you turned off your remote (hobbywing esc). So you have to also turn off your board when dragging this. This is a bad feature to be honest. I have to sometimes drag this while the remote is on.
3) The brakes are okay. They can slow you down, but, if you're counting on this to stop while going up/down hills, don't. It's only made to slow you down, not put you at a complete stop. That part, you'll have to do.
4) This needs AT wheels. 105mm wheels and I still can't maneuver in NYC properly. If you hit a certain road, the wheels doesn't do much for you. I'll definitely buy the AT wheels if available. I'd even change this review.
5) and lastly, this board is incredible and worth the near $930. People loved it and even asked how fast can it go. With wind, you get 27mph max. Going up hill, you'll get 9-12 mph (at 35°), and if it's a bad road, I do not recommend going fast unless you got AT wheels on this. If you're going max speed, you'll be getting 30-32 miles range. If anything lower, you'll get the 40 miles.
I recommend getting this, and AT if available. You'll love it.