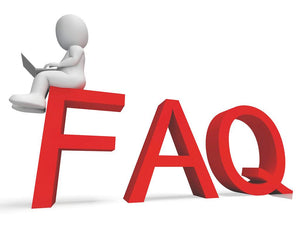 FAQ
Frequently Asked Questions:
Q : When my order will be sent out after payment ?
A : We will take delivery your order within 3 working days, we ship from monday  to sunday.
Q : How long does the board arrive at me ?
A:information on this link : https://aeboard.myshopify.com/admin/themes/82660229199/editor#/pages/shipping-countries-and-shipping-time
Q : Can I choose the shipping method if I need them more quickly.
A : Yes, if you want them more quickly you can contact us and communicate  the shipping method and accordingly cost. As usual, if no specific demand, we will choose the common shipping method (air + Express)
Q : Do I need to pay for the tax on our purchase ? 
A : Our shipping price has included the tax for US Canada, most of the European countries for the whole board, we try our best to choose the shipping according to your demand.
Q : When can I get the tracking number ?
A : We will fill the tracking number once taking delivery, and you will receive a shipping notification.  
Q : Can I change my shipping  address ?
A : Before we take delivery you can contact for updating the new address, as usual we will finish your order according to  your payment address, so please confirm your shipping address once you have place the order.
For any questions, contact us at aeboard2018@gmail.com. Customer service representatives are available 7 days*10hours.
WARRANTY:
This board is covered by a 90 days manufacturer's warranty that defects in workmanship and material.This does not cover damage caused by abuse.misuse,negligence,accident,or riding in water.                                      
The AEboard can be easily repaired by replacing the broken part. We will always diagnose and send free replacement parts for boards under warranty, shipping fees will be collected.                                                          

The water damage ,wheels wear ,and artificial damage are NOT included in the warranty.
Refund Policy
We don't refund when your order is shipped out. 

We don't refund when there is an issue with the product you received.

We don't accept returns.
IF don't find you're looking for, please feel free to contact us.
---