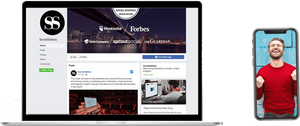 Improving Our Marketing Strategy
When it comes to electric skateboards advertising the product can be a daunting and exhausting task, we have been working on advertising our products since the first day of the creation of our brand.
Our electric skateboards are currently the only skateboards in the market that has top-class features with affordable prices, we wanted to better explain our products to our new customers and we found the best way to do that was through our collaboration with SocialStatista a leading Social media marketing agency. 
We believe that working with such high-class media buyers will help us offer great discounts, gifts and giveaways through Facebook and Instagram ads to our current and new customers. We have found out that SocialStatista was the best option to grow our brand for higher and top levels. 
We truly appreciate their service and we would love to recommend their service to any business owner that's looking to grow and scale their business whether it was small or big business like ours.
You can learn more about their social media management services for Instagram and Facebook ads at www.SocialStatista.com
---