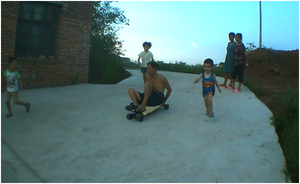 Aeboard views by Flora
My AEBoard

I'll start with my story, hang in.

This was hard to get started, I am not a board rider or wasn't until now. I grew up in the early 80s when every kid owned at least one skateboard and I could scoot up the road but I was not a trick rider or particularly confident… then I got my AEBoard.

The first time I rode it was in China (wife's family not business if it makes a difference to anyone) around a new suburb development starting out on nice new roads but coming to the end of the block I turned on to loose stones on new bitumen. Talk about terror but the boards' wheels just spat the stones out and on we went until we reached the unsurfaced part of the road. Intent on going around the block I rode it out and again the board rode it out no trouble at all.

Ok to skaters this may all seem fair and expected of a board like this one, but I really was no rider. At this point we had come around 3 sides of the block and had come up an incline at the rear, the third was the decline and steeper than expected and with shop owners opening up for the day all over the road in amongst the construction gear. We finally got to test the braking and again the board served well.

I'm not a small man at 6 foot tall I weigh in at about 100kg and at no time through the ride did I feel I was too much for the drive or the braking, but I did this entire ride in first gear. I thought I would never get out of first, it was plenty fast enough thank you.

My second ride was in an area of rice farming villages where I rode over concrete roads in quite variable states of repair. I took an early morning ride riding an hour out to a small town, buying a drink, and back again. I had no idea how the battery would hold up or the ride would go having never gone that way before, but I wanted to take a serious ride before giving a review. I videoed the trip as I know the people who make the board (and I promised, nay demanded, not to be influenced by that in my review) and promised a review and video. I got off the board only twice in 2 hours, on a patch of road that looked too rough to ride (but I did it on the way back) and to get the drink. It was a beautiful morning out and I at this point was in love with my board.

Since returning home to Australia I have gotten it out whenever life allows and ridden corrugated roads the like of which I didn't find in China. The vibration through the legs is nasty but I can't put that on the board, I must ask why China has better road surfaces. I am still loving my board, AND, I am riding it in top gear now.

So the board.

Design

I have an early model of the board. The battery and electronics are contained in an aluminum case that runs the length of the board. It takes out some of the flex in the board. I have tried ones with the separate control and battery boxes in the test, but I can't say the difference was notable to me, a rank amateur. What I like about the battery format in this board is that it has weight balance, as someone with an engineering background I like that. Saying that I'm still looking forward to trying the newer model.

Ride.

I stripped my board down to travel home from China which gave me plenty of reason to mess with the axles. It's very much a typical skateboard in all functions. Once you get the board tightened up to your weight and ability it runs like a dream. While I was in China there was a new wheel design being put into production for a more cross-country ride, but I have regular road wheels and have had no trouble with the ride. If you're a board rider, you'll understand that they function quite nicely on road surfaces.

Control.

I have had no trouble at all with the control system and my specific field of engineering is industrial control systems if there were issues I'd find them. The 3-speed control works fine ramping up from a very solid speed to a thrill-seeking 30+km/h. Throttling on the controller is a nice smooth roll forward of the thumb and braking a rollback. The controller distance is an easy 10m from the board and I have given kids and villagers in China rides up and down in front of the houses rolling them up and down a moderate slope and stopping them before running out of the path. At home in Australia, my son and wife ride it around the neighborhood with me walking near, it's hard to get a turn riding if I'm not going to town. I have no problem with controlling the board from start to stop without throwing people off. When standing on the board remember to brace your weight to the rear leg and you'll never have any trouble riding from a dead stop. I prefer a dead stop-start to kick-off but the board control allows both without any trouble.

Battery and ride time.

I have no idea how long the battery will actually run. I haven't run it flat. I would say the specifications are not to far from the mark. As in my earlier story, I have ridden it for 2 hours straight, over hills which is not something I have to worry about at home (very few hills here). I'm not noting battery deterioration after a year, but my longest ride time now is only 20minutes. It takes in a 20minute ride without trouble. I have a small backpack I ride with and I always carry the charger. The charger and tool are not overly large or difficult to carry.

The board construction.

I have nothing special to say on this point. My 4-year-old has given it a thrashing, getting hold of the control and sending the board shooting around and hitting curbs at full speed. He put some chips in the ends, but the board has taken everything he and I could throw at it (some wood putty in the chips and its beautiful again). As noted, I'm not a small man and I've put it through its paces. The board surface is high grip and if you're interested in an appearance, an attractive design. I have no issues with and no insight beyond that into the board construction, I'm very happy with it.

Why an AE.

I have already made my connection to the people who make this board, they are family friends, but I made it clear to them I would not lie about the board, they would get my raw feelings about it. It is, however, part of why I recommend the AE, I know you will get customer service second to none. These are people who care about the product and have a personal investment in it. They are also riders, not just people behind desks. I'm sure other boards run in much the same way and have similarities but with the AE I know you're dealing with real people with a real connection to the product. My review of the board is my honest opinion of the board - I love it and will be getting upgrades - but one thing a product review often leaves out is often the customer service, with the AE you will get customer service.


---